14ème édition du raid Epernay-Champagne
Sporting event , Hiking at Cumières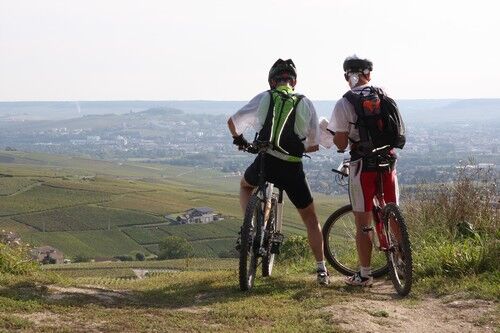 Raid Epernay 2014
A l'occasion de la 14ème édition, l'association Sport Médico Aventure, organisatrice du Raid Epernay-Champagne propose une nouvelle formule pour cette année.
Le traditionnel raid ouvre d'avantage ces portes à la découverte touristique. Une occasion de partager compétition, découverte et gastronomie.
Le samedi 30 août, le raid, à Cumières se déroulera sur une journée, avec au programme par équipe de deux :
- course ou marche à pied en orientation
- vtt, canoë, run & bike
Cette année deux parcours sont au choix, le parcours long de 55 à 60 km ou le parcours court d'environ 30 km.
Les départs sont programmés à 12 h 00 pour le parcours long et à 13 h 30 pour le parcours court.

Le dimanche 31 août, l'oeno-randonnée à Epernay en partenariat avec l'office du tourisme d'Epernay.
Le départ se fera le matin à l'office du tourisme situé sur l'avenue de Champagne d'Epernay. Les randonneurs partiront, à pied, à la découverte de la ville et du champagne sur les coteaux sparnaciens. Une dégustation dans les vignes ainsi qu'une visite de cave seront au programme.

Deux épreuves pour bouger les 30 et 31 août 2014, à vous de choisir votre formule :
- Le raid (parcours long ou court) et la randonnée
- Le raid seul (parcours long ou court)
- La randonnée touristique seule

Les inscriptions sont ouvertes !
Leave a review about 14Ème Édition Du Raid Epernay-Champagne :
Horrible

Bad

Average

Good

Excellent
There is no review about 14Ème Édition Du Raid Epernay-Champagne, be the first to leave one !