7ème Festival du rire en Champagne
Festival at Ay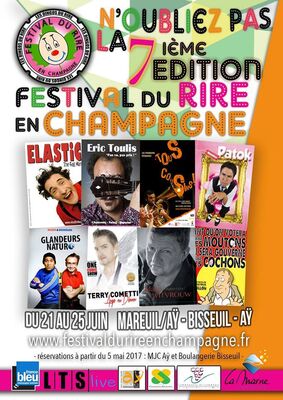 Festival d'humour ou se mélange le texte, la chanson, le visuel, le stand up, la comédie, le cirque..... l'humour sur toute ses façons.

Plus de 20 artistes (régional, national et international) venant de France, de Belgique et d'ailleurs.

Mareuil-sur-Aÿ, jeudi 22 juin à 20 heures : Les Zyrgomatiks, autodérision, poésie et naïveté enfantine pour ces 2 compères qui se sont produits à Montréal ; Les Glandeurs Nature et l'histoire de Néné et Bichoko qui déploient beaucoup d'énergie pour parvenir à « rien ».

Bisseuil, vendredi 23 juin à 20 heures (sous chapiteau) : Les Zyrgomatiks, spectacle « Ange ou Démon » de Terry Cometti, acteur, humoriste qui a participé au Festival Juste pour rire, Patok et son univers original, déjanté et ses jeux de mots et réflexions décalées sur sa vision du monde, Jean-Patrick Douillon, auteur satirique, habitué des festivals d'humour et cafés-théâtres, pensionnaire du théâtre des 2 ânes et spécialisé dans les faits politiques désopilants.

Bisseuil, samedi 24 juin avec le repas des Dingos dès 18 h 30 : Marc Witrouw, seul Belge de la programmation, écrit ses textes et capte l'auditoire avec son humour caustique, sa nonchalance et ses jeux de mots, Terry Cometti, Patok, Jean-Patrick Douillon.

Bisseuil, dimanche 25 juin à 16 heures, final tout public : Elastic, « The Gag Man » mélange de cirque et de music-hall à voir en l'air, par terre ou à l'envers, avec mimiques et illusions visuelles surprenantes, Eric Toulis, chanteur, compositeur au ton persifleur et textes croustillants et gouailleurs sur les travers de notre société.
Leave a review about 7Ème Festival Du Rire En Champagne :
Horrible

Bad

Average

Good

Excellent
There is no review about 7Ème Festival Du Rire En Champagne, be the first to leave one !