Au fond du bois dormant
Theatre at Épernay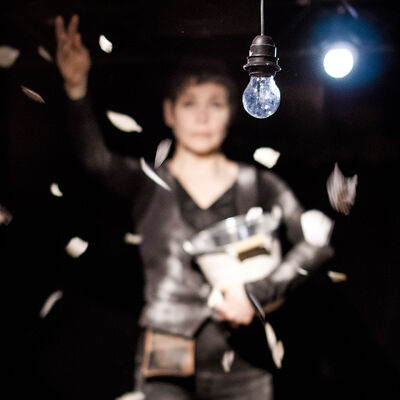 26-Au-Fond-du-Bois-Dormant-copyright-Arthur-Babel
C'est un véritable coup de coeur que cette adaptation contemporaine du Petit Poucet proposée par la compagnie Un château en Espagne. Pierre est une fille, et a six frères. Petite dernière de cette fratrie, elle nous entraîne dans son combat contre l'adversité. Fidèle au conte traditionnel, ce récit initiatique évoque l'abandon et la perte d'identité, la menace de mort mais s'attache surtout à développer le point de vue de l'enfant, son regard sur les choses et son parcours intime dans les épreuves qu'elle traverse. Subtilement, on entrevoit la fragilité mais aussi sa force qui guide le récit. Placés de part et d'autres de la scène, nous traversons avec Pierre et ses frères, cette forêt profonde. Nous rencontrons l'ogre, la faim, la peur pour retrouver enfin, grâce à la ténacité et l'ingéniosité de Pierre, le seuil de la maison familiale. Ce spectacle propose d'emmener parents et enfants vers un théâtre d'émotions profondes, qui dit l'insoupçonnable capacité des enfants à s'adapter pour mieux grandir.

Le mercredi à 19h. Jeudi et vendredi à 10h et 14h30.
Le Salmanazar.
Leave a review about Au Fond Du Bois Dormant :
Horrible

Bad

Average

Good

Excellent
There is no review about Au Fond Du Bois Dormant, be the first to leave one !