Circuit-découverte estival "Sur les traces d'une histoire authentique"
Cultural , Unusual , Nature and relaxation , Traditions and folklore , Heritage event , Open days , Visit , Guided tour , Animals , Gastronomy , Historic , Fashion at Piney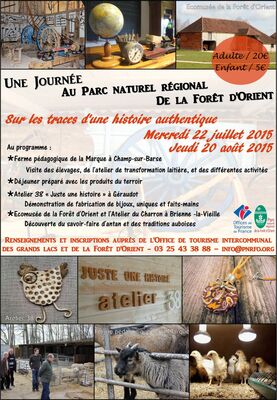 Le Parc naturel régional de la Forêt d'Orient vous invite à une découverte du Parc originale ..vous allez partir sur le chemin d'une histoire riche et passionnante : une saga familiale, la passion de la création, un retour sur le passé …

- En matinée, ce circuit mettra en avant des éleveurs qui maintiennent voire développent leur activité en faisant des choix qui restent atypiques dans notre territoire : mise en place de transformation, vente en circuits courts.... Nous « dégusterons » les motivations d'un restaurateur qui met en avant les produits de proximité et les producteurs locaux avec qui il travaille en confiance depuis de nombreuses années.

- Pour l'après-midi, nous avons rendez-vous avec l'artisanat et la passion d'une créatrice avant de voyager dans le temps avec un retour dans le Passé à l'Ecomusée de la Forêt d'Orient.
Les hommes aiment à se voir conter des d'histoires qui nourrissent leurs esprits et imaginations. Cette seconde partie du circuit propose une lecture originale et vivante du territoire. Redécouvrez les pratiques anciennes et métiers de nos campagnes avec ceux qui perpétuent la mémoire des traditions et des savoir-faire familiaux. La mémoire, c'est penser le lien entre les générations, la transmission auprès des jeunes. Vous découvrirez une facette d'un territoire où l'empreinte du temps ouvre sur une large gamme d'activités culturelles.

Informations pratiques :
- Tenue décontractée à prévoir
- Visite en covoiturage
- Circuit pour tout public, petits et grands

- Réservation indispensable auprès de votre hébergement ou à l'OT intercommunal 03 25 43 38 88 ainsi qu'aux Capitaineries de Dienville et Mesnil-St-Père
Leave a review about Circuit-Découverte Estival "sur Les Traces D'une Histoire Authentique" :
Horrible

Bad

Average

Good

Excellent
There is no review about Circuit-Découverte Estival "sur Les Traces D'une Histoire Authentique", be the first to leave one !