Cirko Galop 2014
Show at Muizon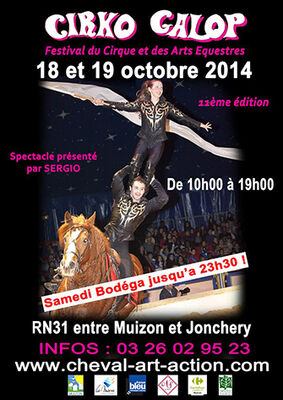 Cheval Art Action
11ème édition du Festival du cirque et des arts équestres. Réservations obligatoires.

Des animations extérieures (baptême à poneys, château gonflable, pistes ouvertes…), un bar et un snack-bar sont proposées tout le week-end, entre les spectacles.

Les spectacles
Spectacle de cirque « Destinée », présenté par l'illustre Mr Loyal : Sergio. Des artistes internationaux et des numéros de haute qualité. 2 représentations : samedi et dimanche à 15h30.

Spectacle des jeunes talents : jeunes artistes, mais grand talent ! Dimanche à 11h.

Spectacle de Marionnettes pour la joie des petits et des grands. Samedi et dimanche à 14h.

Bodega : soirée festive avec numéros de cirque présentés par les jeunes talents de Cheval Art Action, pleine de rencontres, d'échanges et de surprises. Samedi à 20h30.

Spectacle « CIRKO GALIPETTE » (gratuit) : mini-spectacle de cirque par des mini-artistes. Samedi à 18h.

Atelier pédagogique cirque (gratuit) : ouvert à tous. Samedi à 10h30.
Leave a review about Cirko Galop 2014 :
Horrible

Bad

Average

Good

Excellent
There is no review about Cirko Galop 2014, be the first to leave one !