Concert-Rencontre "Oaktree Well"
Music , Concert , Show at Reims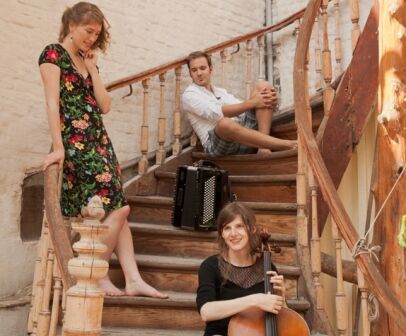 OakTree, trio de musique acoustique, naît de la rencontre en 2008 de trois passionnés de jazz passés par le Conservatoire Royal de Bruxelles. A l'issue d'un premier projet visitant un répertoire alliant standards, improvisations libres, miniatures et compositions originales, ils décident de continuer l'exploration de cette formation atypique et réorientent leur répertoire intégrant notamment de nouvelles compositions personnelles ainsi que des chansons, des standards latins et pop revisités.
Leur musique est aujourd'hui au carrefour de leurs influences et de leurs intérêts respectifs : musique classique, jazz, musique des Balkans, musiques du monde et toute la mouvance d'improvisation libre.
La singularité de leur formation et leurs recherches sonores donnent naissance à des textures, des couleurs qui se mélangent, se fondent, s'enrichissent et surprennent, utilisant leurs instruments de manière parfois alternative, inversant les rôles définis communément... OakTree plonge son auditoire dans un univers sensible et créatif, ludique et passionné, tantôt dynamique, tantôt berçant, aventureux et décalé à ses heures, en funambule généreux qui souhaite faire danser et titiller l'imaginaire du public.

Concert -Rencontre
Jeudi 21 janvier 19h
Tarif : 10€
Étudiant : gratuit
Durée indicative : 1h suivi d'un échange avec le public
Leave a review about Concert-Rencontre "oaktree Well" :
Horrible

Bad

Average

Good

Excellent
There is no review about Concert-Rencontre "oaktree Well", be the first to leave one !