Et pendant ce temps là Simone veille !
Music , Show , Comedy at Vouziers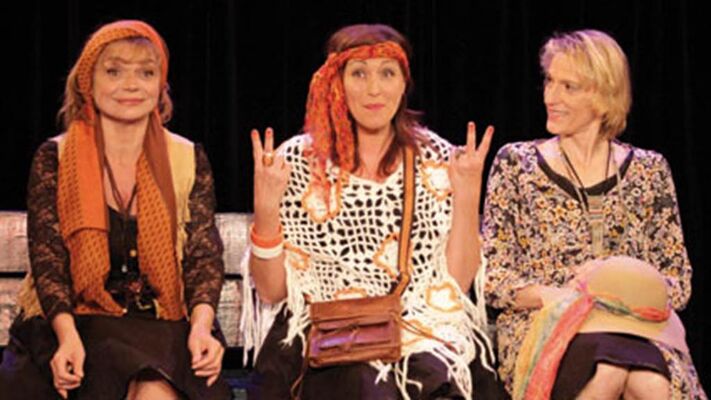 Droits libres
Le 26 novembre 1974, Madame Simone Veil prononça un discours devant l'Assemblée Nationale qui changea la vie des femmes et la société française.Ce spectacle est un récit humoristique de l'évolution de la condition féminine en France des années 50 à nos jours, au travers de scènes de la vie quotidienne émaillées de parodies de chansons.Trois femmes sur un banc dans un jardin public : En 1950, c'est pour surveiller les gosses, en 1970, c'est avant de partir en manif', en 1990, c'est pour faire du sport et en 2015, avant d'aller faire les soldes…La première génération : Marcelle, France et Jeanne avaient 20 ans en 1940.Quand on les rencontre, sur leur banc, dans les années 50, elles sont toutes les trois mariées, mères au foyer et ont dû renoncer à leurs ambitions personnelles pour rentrer dans le droit chemin décidé par la société pour les femmes. L'arrivée de l'électroménager et le droit de vote ne suffiront pas à leur faire oublier que, paradoxalement, c'est pendant la guerre qu'elles ont goûté à la liberté en accédant, en leur absence, aux postes occupés par les hommes. Ces trois femmes sont les premières de trois lignées de femmes que l'on va suivre. Sous l'oeil vigilant de Simone, la conteuse, garante de la petite et de la grande histoire des femmes !Une comédie déjà plébiscitée plus de 200 fois par le public féminin ET masculin !!Durée : 1h20

Spoken languages
From 0 € to 6 €

From 0 € to 10 €

From 0 € to 15 €

From 0 € to 12 €
Leave a review about Et Pendant Ce Temps Là Simone Veille ! :
Horrible

Bad

Average

Good

Excellent
There is no review about Et Pendant Ce Temps Là Simone Veille !, be the first to leave one !