Exposition "Dessine-moi une collection..."
Cultural , Exhibition at Troyes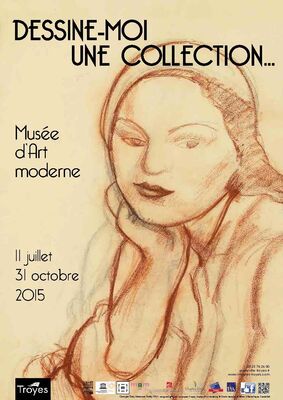 L'exposition Dessine-moi une collection est l'occasion de (re) découvrir les collections d'arts graphiques, qui n'ont pas été exposées depuis quinze ans, à travers une sélection d'une centaine d'oeuvres sur les plus de mille-huit-cents que compte cet important fonds.

Au gré d'un parcours thématique, le visiteur appréhende les artistes et les axes forts ainsi que le dialogue qu'ils entretiennent avec le reste des collections.

L'exposition permet de mettre en lumière le pan graphique du fonds Pierre et Denise Lévy mais aussi les oeuvres issues des autres donations et de la politique d'acquisitions du musée. De Delacroix à Corneille, du pastel à l'encre de Chine, les oeuvres dessinent un chemin particulier, de la seconde moitié du 19e siècle à nos jours.

Plusieurs actions sont proposées :
- Fiches et îlots jeux pour les plus jeunes, visites guidées et conférences pour les adultes.
- Un concours de dessin est également organisé.

Ouvert aux artistes en herbe à partir de 6 ans ou confirmés, le but est de transcrire dans une vision personnelle, en dessin, une oeuvre du musée (tableau, sculpture…) selon la technique souhaitée (crayon, fusain, feutre…). Cinq lots sont à gagner dans chacune des 3 catégories de participants (6-12 ans, 13-17 ans, + de 18 ans).
Date limite de participation : 15/10/2015.
Leave a review about Exposition "dessine-Moi Une Collection..." :
Horrible

Bad

Average

Good

Excellent
There is no review about Exposition "dessine-Moi Une Collection...", be the first to leave one !