Exposition "Réminiscences"
Exhibition at Épernay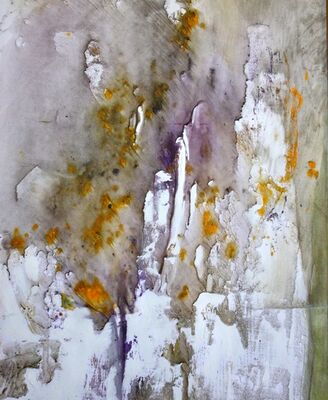 Patrick Adam
Paysages non-figuratifs (acrylique sur papier et collages) de Patrick ADAM.
"Le monde des formes et des couleurs que nous offre la nature est d'une richesse infinie. Il est difficile pour le peintre non-figuratif - à moins de se limiter aux taches ou aux carrés - de se tenir totalement à l'écart des formes naturelles qui apparaissent alors, plus au moins contre son gré, sous forme d'allusions, de réminiscences. Ces réminiscences, je ne les refuse pas ; je les cherche même dans les combinaisons de formes et de couleurs produites par le hasard - provoqué - des rencontres de l'eau, des couleurs et du papier.
De la peinture à la nature : dans un tableau non-figuratif, je pars de la peinture, du jeu libre et improvisé des formes et des couleurs pour rejoindre allusivement des formes et des forces naturelles. Les titres sont également allusifs : à chacun de trouver ses propres associations, ses réminiscences personnelles."
A l'Office de Tourisme Epernay 'Pays de Champagne' de 11h à 16h les dimanches et jours fériés.
Leave a review about Exposition "réminiscences" :
Horrible

Bad

Average

Good

Excellent
There is no review about Exposition "réminiscences", be the first to leave one !