Hommage à QUEEN et FOREIGNER : 4EIGNER / BOHEMIAN DUST
Concert at Matignicourt-Goncourt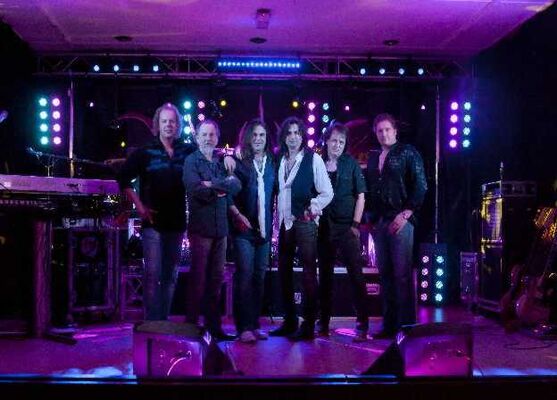 4Eigner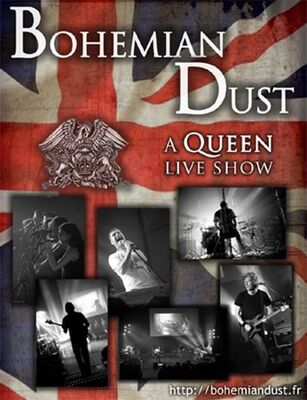 Bohemian Dust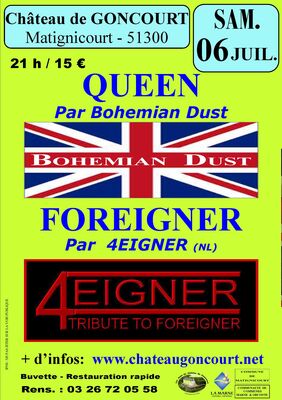 Chateau de Goncourt
Le groupe Allemand tribute to FOREIGNER, a été fondé en mars 2010 par des musiciens d'expérience. Foreigner est universellement reconnu comme un des plus populaires groupes de rock au monde... Apres 35 ans de carrière et tournées à travers la planète entière, Foreigner continue de captiver, générations après générations, quantité de fans de sa musique et se produit toujours avec l'éternel et unique son qui le caractérise... 4EIGNER interprète un show où tous les grands «tubes» de Foreigner défilent… Toutes les chansons sont conservées le plus proche possible des originaux… Pourquoi changer quelque chose qui est déjà excellent…

Le meilleur de QUEEN revisité par 4 musiciens accompagnés de 7 choristes et d'un Vj ! Bohemian rhapsody, Another one bites the dust, The show must go on, I want it all... Voilà quelques-uns des succès mondiaux que BOHEMIAN DUST fait résonner en live,
plongeant le spectateur dans l'univers de ce groupe si particulier. Avec plus de 300 millions d'albums vendus et plus populaires que les BEATLES au Royaume-Uni, les morceaux de QUEEN restent dans toutes les mémoires malgré la disparition de Freddie MERCURY en 1991. Pour rester fidèle aux riches arrangements vocaux des enregistrements, BOHEMIAN DUST
est complété par 7 choristes empruntés aux meilleures chorales de la région Lorraine. InziEye, Vj messin, ajoute ses images en constante évolution aux sons du groupe, pour en faire un spectacle énergique et haut en couleurs. Ce projet, qui a déjà fait salle comble lors de ses premières prestations, a su convaincre un public composé de toutes les générations. Et l'aventure ne fait que commencer... BOHEMIAN DUST will Rock You!

Château de Goncourt.
4Eigner

Chateau de Goncourt
Bohemian Dust
Leave a review about Hommage À Queen Et Foreigner : 4Eigner / Bohemian Dust :
Horrible

Bad

Average

Good

Excellent
There is no review about Hommage À Queen Et Foreigner : 4Eigner / Bohemian Dust, be the first to leave one !