L'ATEC fête ses 25 ans !
Cultural , Unusual , Lecture at Troyes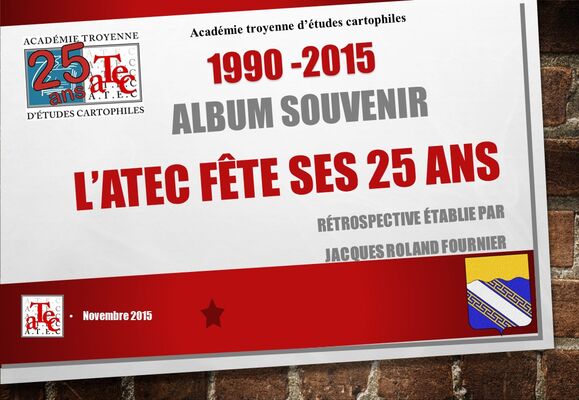 A 16h

Pour les 25 ans de l'ATEC, la conférence habituelle laissera cette fois la place à une rétrospective présentée dans un diaporama et commentée par Jacques Fournier, président de notre académie.

Ce sera donc l'occasion :
- de revenir sur les moments forts de la vie de l'association et les personnalités marquantes qui se sont passionnément investies depuis le début ;
-de mettre aussi en valeur l'évolution et les changements tels que l'ouverture des communications au public à partir de 2006 lorsque l'ATEC quitte l'Hôtel de Marisy pour la Maison du Patrimoine du Grand Troyes ;
-de rappeler les publications phares comme l'ouvrage en trois tomes de Claude Bérisé, La mémoire de Troyes en cartes postales, édité par la Maison du Boulanger entre 1993 et 2010.
-l'occasion, enfin, de faire connaître les activités et les motivations de l'ATEC, qui se positionne davantage sur la recherche historique à travers les cartes postales que sur la seule collection.

Venez nombreux vous remémorer ces moments vécus ou simplement découvrir ce qui peut se cacher sous une carte postale...sans doute pas si banale qu'elle peut en avoir l'air.
Leave a review about L'atec Fête Ses 25 Ans ! :
Horrible

Bad

Average

Good

Excellent
There is no review about L'atec Fête Ses 25 Ans !, be the first to leave one !