Le Parc fait son cinéma !
at Pourcy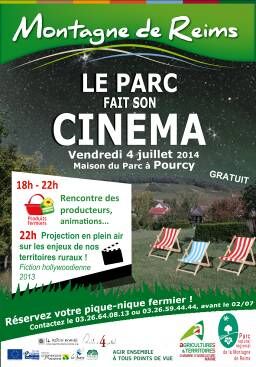 PNRMR
Le Parc naturel régional de la Montagne de Reims vous propose pour la 2ème année consécutive une soirée inédite.

- Dès 18h et jusque 22h : rencontre avec des producteurs fermiers, membres du réseau Bienvenue à la ferme organisée avec la Chambre d'agriculture de la Marne, avec la participation de la Compagnie de théâtre du Diable à 4 pattes.
- Un pique-nique fermier – réservation préalable des paniers avant le 2 juillet (03 26 64 08 13 ou 03 26 59 44 44, au prix unitaire de 12,50€).
- A 22h : projection en plein-air sur les enjeux de nos territoires ruraux (fiction hollywoodienne 2013). Vous embarquerez dans un récit palpitant, où les questionnements seront nombreux et dérangeants. Un débat pourra ensuite s'ouvrir avec les élus et les techniciens du Parc.

Vous pourrez également déguster à la Maison du Parc, des produits régionaux dans un cadre convivial.

Possibilité d'apporter son propre pique-nique.
Leave a review about Le Parc Fait Son Cinéma ! :
Horrible

Bad

Average

Good

Excellent
There is no review about Le Parc Fait Son Cinéma !, be the first to leave one !