Les Eternels du rire
Show at Épernay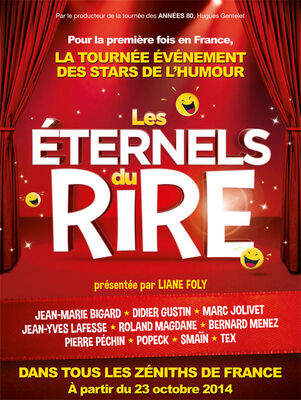 Les éternels du rire
La tournée évènement des stars de l'humour.
Pour la première fois en France, et pour 20 dates seulement, ce spectacle réunit les plus grandes légendes comiques qui ont marqué nos esprits, certains depuis plus de quarante ans !
Jean-Marie Bigard, Roland Magdane, Popeck, Marc Jolivet, Jean-Yves Lafesse, Smaïn, Pierre Péchin, Didier Gustin, Bernard Menez, et Tex revisitent l'histoire de l'humour à travers leurs meilleurs sketches, mais aussi vous offrent des surprises, des duos, des rencontres magiques pour ces artistes habitués au « One Man Show ».
Pendant 2h30, venez rire, chantez avec notre orchestre live, vous amusez des histoires que vous adorez et de celles que vous découvrirez. Une seule exigence, tous les artistes présents ont du métier et sont des légendes dans leur catégorie. Tous ensemble, ils ont déjà réunis plus de 100 millions de spectateurs.
Pour mettre de l'ordre dans ce joyeux programme, Liane Foly, artiste aux multiples talents est la femme orchestre de notre bande de joyeux lurons.
Le spectacle rend également un hommage vidéo avec des images inédites de celui qui manque dans le cœur de tous les français : Coluche.
Un final inédit réunit pour la première fois sur scène tous les acteurs de cette aventure, pour un fou rire inoubliable.

Millésium.
Placement numéroté assis.
Leave a review about Les Eternels Du Rire :
Horrible

Bad

Average

Good

Excellent
There is no review about Les Eternels Du Rire, be the first to leave one !