Les Noces Félines
Music , Concert , Show , Video at Reims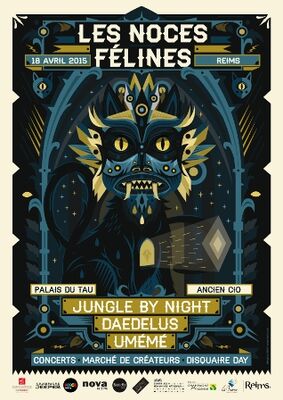 « A l'occasion de son cinquième anniversaire, Velours voit les choses en grand pour ses NOCES FELINES avec toujours cette même envie de vous surprendre, au coeur de la ville des sacres. 2 temps forts cette année :
▬▬▬▬▬▬▬▬▬ PROGRAMMATION ▬▬▬▬▬▬▬▬▬
►► 11H > 19H – MARCHE DE CREATEURS ET DISQUAIRE DAY
ø ANCIEN C.I.O. – 36 rue Boulard, Reims
ø GRATUIT
La nouveauté, c'est ce rdv dans un bâtiment inédit ré-imaginé pour l'occasion par les artistes peintres rémois à base de POSCA ! Dans le cadre du "disquaire day", une bourse aux vinyles géante est organisée sous le signe de l'éclectisme et de La Source Phonique. Mais aussi, des dizaines de créateurs locaux (sérigraphies, sculptures, bijoux, vêtements, livres, porcelaine et inclassables !) joueront à cache-cache dans un esprit de chasse aux trésors !

►► 20H > 03H - CONCERTS ET INNOVATIONS – PALAIS DU TAU
ø 2 Place du Cardinal Luçon, Reims
ø 15 à 20€
Dans ce lieu mystique, nous revenons aux sources de la première édition en liant afrobeat et musiques électroniques dans une ambiance dédiée à la fête et la découverte. Au programme :
øø JUNGLE BY NIGHT (AfroJazz/EthioFunk - Hollande)
Une horde de jeunes hollandais survoltés
https://www.youtube.com/watch?v=Xvz-2zMMoRY
øø DAEDELUS (Electronica - USA)
Un savant fou envoutant
https://www.youtube.com/watch?v=ji8CIi93Mhk
øø UMEME (Afro/Psyché - Hollande)
Une tribu masquée elliptique
https://www.youtube.com/watch?v=oiXeSn9-idE
øø MAWIMBI (Afro/Electro - Paris)
Des djs aux services de la danse
https://soundcloud.com/wearemawimbi

Plus qu'un concert, devenez aussi acteurs d'installations innovantes avec STUDIO DSPLY.
http://www.velours-asso.com/?page_id=1660
Enfin, on ne vous dit pas tout, ce serait gâcher la surprise. Un conseil : VENEZ MASQUES !


▬▬▬▬▬▬▬▬▬ BILLETTERIE ET INFOS ▬▬▬▬▬▬▬▬▬
► TARIFS
ø Préventes : 15€ (réduit) et 17€ (plein)
ø Sur place : 20€ (tarif unique)

ø Point de vente web :
https://www.weezevent.com/les-noces-felines-3

ø Point de vente physique :
- Bureaux Velours à La Cartonnerie
- Mojito Skateshop, 15 rue du Clou dans le Fer

► Buvette sur place - CB au bar
► Restauration : SACRE BURGER
https://www.facebook.com/pages/Sacré-Burger-Food-Truck/1393938117532626"
Leave a review about Les Noces Félines :
Horrible

Bad

Average

Good

Excellent
There is no review about Les Noces Félines, be the first to leave one !