Nuit des Chauves-Souris
Unusual at Troyes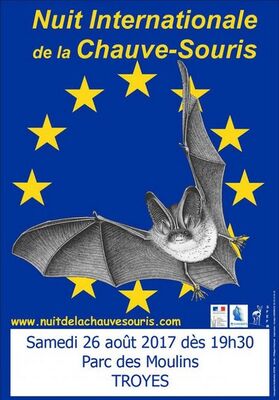 Le Samedi 26 août

Samedi 26 août, la Ville de Troyes et le Conservatoire des Espaces naturels de Champagne-Ardenne organisent, la première soirée consacrée aux chauves-souris au parc des Moulins. Plusieurs « demoiselles de la nuit » ont en effet été entendues dans la remise de la Maison des Maraîchers, qui comporte des ouvertures dédiées permettant leur passage. Ce sera l'occasion de les observer et de mieux connaître ces chiroptères.

Programme :
19h30 : conférence avec projection
20h30 : écoute et observation dans le parc

Attention, inscription obligatoire, limitée à 30 personnes : environnement@ville-troyes.fr
Bon à savoir : prévoir chaussures adaptées, lampes de poche et vêtements chauds

Cet événement est programmé dans le cadre de la 21e Nuit internationale de la chauve-souris et du label Refuge pour les chauves-souris obtenu par la Ville en début d'année.
Leave a review about Nuit Des Chauves-Souris :
Horrible

Bad

Average

Good

Excellent
There is no review about Nuit Des Chauves-Souris, be the first to leave one !