Opéra comique "Le Voyage dans la lune"
Opera , Show at Reims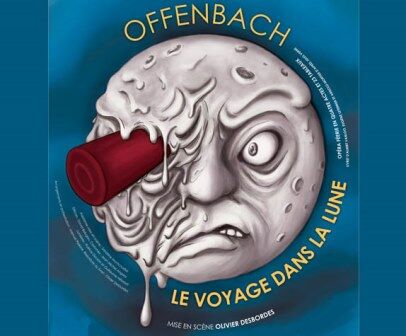 Dans la société du Second Empire, Offenbach met en musique la vogue des rêves de voyages nourris par la créativité sans bornes de Jules Verne et de son roman De la terre à la Lune.

Opérette féerique, Le Voyage dans la Lune illustre l'essor des techniques qui font imaginer au monde des années 1870 que le progrès peut faire reculer toutes les frontières du possible.

Le metteur en scène Olivier Desbordes joue de ces frontières, dans l'espace et dans le temps. Il replonge dans le noir et blanc et les images saccadées des débuts du cinéma muet, avant de s'échapper dans une science-fiction digne des années 1960 à l'ambiance orwellienne, un monde glaçant comme la guerre froide où l'amour n'existe pas. Les héros lunaires d'Offenbach, privés d'amour, disposent d'une réserve de femmes consacrées à la reproduction et d'une autre pour le plaisir… Critique acerbe du statut de la femme à l'époque ! Mais au final, grâce à la pomme, l'amour se libère et agite la lune en mode peace and love !
Odyssée dans la fantaisie du temps, voyage en absurdie aux résonnances actuelles sur la bêtise des puissants, l'opérette d'Offenbach s'envole dans l'espace de l'ironie et de la causticité.

Samedi 28 mai 20h30
Dimanche 29 mai 14h30 (audiodescription)
Tarif : 26-22-16-10€
Durée : 2h30
Leave a review about Opéra Comique "le Voyage Dans La Lune" :
Horrible

Bad

Average

Good

Excellent
There is no review about Opéra Comique "le Voyage Dans La Lune", be the first to leave one !