Opéra "Marta"
Music , Opera , Show at Reims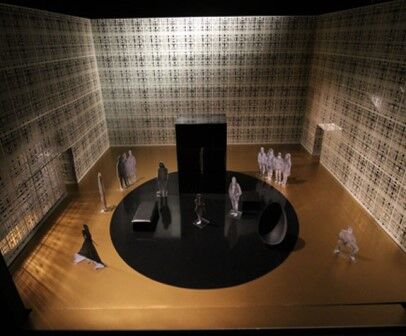 Ludovic Lagarde avait monté Massacre, premier opéra de Wolfgang Mitterer – on a pu le voir à l'Opéra de Reims en 2010 – une féerie sombre, où des personnages en costumes élisabéthains surgissaient du noir, leurs visages et leurs chants agrandis par l'image, fantômes de la Saint-Barthélemy revenus nous hanter.

Le duo reprend un nouveau projet, Marta, sur un livret de Gerhild Steinbuch. Une catastrophe a eu lieu, les enfants ont disparu, une seule a été sauvée et emprisonnée dans une cage de verre... Autour de cette vitrine étrange, le roi et la reine se réfugient dans le sommeil et rêvent à un passé disparu. Des paysages perdus se déploient. Autour d'eux, la ville est en feu.
Cette légende du Roi Arthur moderne a été mise en musique par Mitterer, compositeur qui sait jouer des instruments anciens et de toutes les trouvailles électroniques contemporaines.
Comme pour Massacre, Ludovic Lagarde utilise les ingrédients du théâtre et de la vidéo pour nous emmener vers la musique.
Avec l'Ensemble contemporain Ictus, des chanteurs hors pair, comme le baryton Georg Nigl aussi à l'aise dans le répertoire du XVIIe que dans la musique contemporaine, de Monteerdi à Pascal Dusapin, ce spectacle s'annonce comme un chamboulement des styles et des époques.

Mardi 19 avril 20h00
Tarif : 24€
Durée : 90 minutes
chanté en anglais sur titré en français
Leave a review about Opéra "marta" :
Horrible

Bad

Average

Good

Excellent
There is no review about Opéra "marta", be the first to leave one !