Orphée aux enfers
Show at Troyes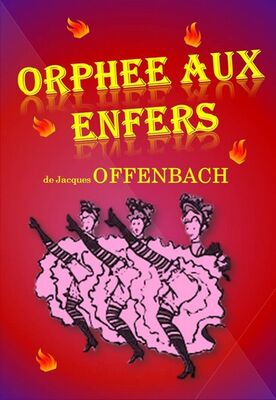 A 15h - OPERA-BOUFFE DE JACQUES OFFENBACH

Entre le violoniste Orphée qui charme les nymphettes et Eurydice qui flirte allègrement avec le berger Aristée, rien ne va plus !
Eurydice meurt. Le bonheur d'Orphée n'est que de courte durée car l'Opinion Publique l'oblige à aller réclamer sa femme aux Enfers…
Rien ne va plus non plus sur l'Olympe… Jupiter est confronté à la révolte des autres dieux et son épouse Junon, lasse de ses frasques, ne cesse de lui faire des scènes de ménage ! Quelle aubaine que cette Eurydice enlevée par
Pluton… Voilà toute l'Olympe descendant joyeusement aux Enfers, trop heureuse de cette occasion de se divertir entre bacchanales et John Styx…
En co-réalisation avec Le Renouveau Lyrique
Direction artistique : Emmanuel Marfoglia
Mise en scène : Laure Crumière
Direction musicale : Michel Troisoeufs
Chorégraphie : Martine Cot
Avec Ismaël Armandola, Claire-Élie Tenet, Lionel Delbruyère, Renaud de Rugy, Clémentine Decouture, Flore Fruchart, Benoit Jeannes, Marie-Nadège Barthazon, Franck Gouffran, Laure Crumière

Tarifs : Individuel : 32 €
- 25 ans : 15 €
Groupe : 28 €

3 Formules d'abonnements :
Abonnement 2 œuvres : 58 € (soit 29 € / place)
Abonnement 3 œuvres : 84 € (soit 28 € / place)
Abonnement 4 œuvres : 108 € (soit 27 € / place)
Reservations à la Maison du Boulanger 42 rue Paillot de Montabert à Troyes
Par Téléphone au 03 25 40 15 55
ou en ligne
Frais de vente à distance : 1 € par commande.
Leave a review about Orphée Aux Enfers :
Horrible

Bad

Average

Good

Excellent
There is no review about Orphée Aux Enfers, be the first to leave one !