OUI-OUI et le Grand Carnaval
Show at Châlons-en-Champagne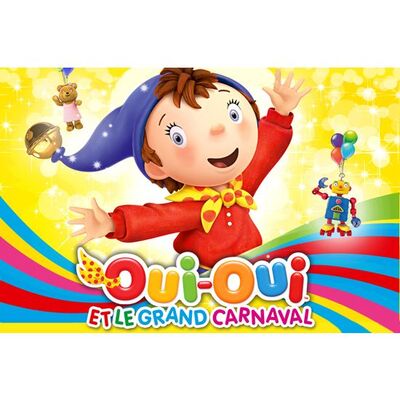 Billetterie à l'Office de Tourisme.
Comme chaque année à Miniville Oui Oui et tous ses amis se préparent à faire la fête.
Cette année Oui Oui veut changer les habitudes et souhaite organiser un Grand Carnaval avec tous les pays du monde.
Tout le monde est enthousiaste. On pourra se déguiser et défiler.
Ce sera l'occasion de désigner le Roi de Miniville qui pourra demander à tous les amis de lui préparer quelque chose de spécial.
Chacun se prépare pour faire le plus beau char d'Asie, d'Afrique, de Russie …
Les lutins, Sournois et Finaud comprenant que cette compétition pourrait leur rapporter beaucoup de bonbons décident de s'y engager.
Mais ils n'ont pas du tout l'intention de laisser les autres gagner et de respecter les règles du jeu.

Placement numéroté assis.
Leave a review about Oui-Oui Et Le Grand Carnaval :
Horrible

Bad

Average

Good

Excellent
There is no review about Oui-Oui Et Le Grand Carnaval, be the first to leave one !