Over the Cloud
Show at Châlons-en-Champagne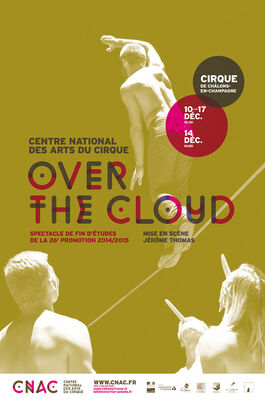 Centre national des arts du cirque
La 26e promotion se consacre depuis mi-septembre à la création de son spectacle de fin d'études, OVER THE CLOUD.
Le Cnac a confié la mise en scène à Jérôme Thomas, avec la collaboration de Martin Palisse.
Cette 26e promotion est composée de 11 élèves répartis en 7 spécialités : corde lisse, fil, tissus, roue Cyr, fil souple, main à main, bascule coréenne.

OVER THE CLOUD
Après le nouveau cirque, le cirque à nouveau !
Le cirque à nouveau" est véritablement une démarche collective qui irrigue Over the Cloud. Le travail porte sur un mouvement qui rassemble les onze étudiants de la 26e promotion. Ainsi Jérôme Thomas développe une écriture basée sur différents modes de marche et sur leur mouvement synchronisé, pour essayer de s'envoler vers l'au-delà des nuages.
Trois facteurs viennent renouveler le cirque contemporain et sont le principe même de création de ce spectacle de fin d'études : les artistes sont toujours en mouvement ; les solos cèdent le pas pour privilégier le collectif et pour lui imprimer d'autres rythmiques ; tous les artistes touchent tour à tour à chaque agrès présent dans le spectacle.
Leave a review about Over The Cloud :
Horrible

Bad

Average

Good

Excellent
There is no review about Over The Cloud, be the first to leave one !