Petites bêtes, grand paysage en Montagne de Reims
at Pourcy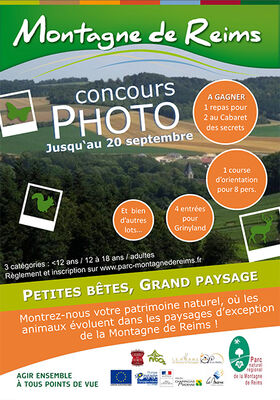 PNRMR
Concours photo sur les interactions entre la faune et les paysages de la Montagne de Reims : un mammifère entre vignes et cultures, un oiseau qui survole la vallée de la Marne, le plateau forestier et ses crapauds…
A travers ce thème, le Parc souhaite valoriser le patrimoine naturel de la Montagne de Reims. Les paysages et les reliefs diversifiés de la Montagne de Reims permettent aux animaux de trouver refuge, de s'alimenter ou de se reproduire. C'est la qualité de ces milieux, vignes, forêt et cultures, qui permet aux mammifères, aux oiseaux, aux batraciens ou aux insectes de circuler.
Laissez vous surprendre par ces habitants remarquables, d'un territoire exceptionnel, immortalisez et interpellez le spectateur sur cette interaction entre vos paysages et les espèces, entre la vie et son milieu, entre un patrimoine discret et une identité visible.
Le concours photos est ouvert à toute personne physique domiciliée en France Métropolitaine. Les personnes mineures doivent bénéficier d'une autorisation de leur représentant légal pour participer. La participation à ce concours photo implique l'acceptation sans restriction ni réserve du présent règlement. Le concours est composé de 3 catégories de participants par tranche d'âge :
- Catégorie enfant : < 12 ans
- Catégorie jeunes : 12 à 20 ans inclus
- Catégorie adultes : >20 ans.

Règlement du concours en fichier joint.
Leave a review about Petites Bêtes, Grand Paysage En Montagne De Reims :
Horrible

Bad

Average

Good

Excellent
There is no review about Petites Bêtes, Grand Paysage En Montagne De Reims, be the first to leave one !