S'en mêler, sang mêlé
Show at Troyes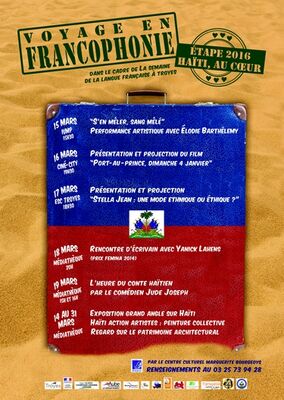 A 15h30 le 15 mars 2016
Chapelle du Sacré Coeur - IUMP Rue St-Martin-Es-Aires
SPECTACLE - Entrée libre
Comité Marguerite Bourgeoys - Voyage en francophonie

"S'en mêLer, Sang mêLé "
Performance artistique avec ELodie BarthéLemy
Élodie Barthélemy est une plasticienne de double culture française et haïtienne.
Le dessin, la peinture, la sculpture tout comme des installations, des performances servent de support à son langage artistique...
La performance originale qu'elle offre aujourd'hui avec les étudiants de l'École Supérieure de Design de Troyes reflète la générosité de son travail axé sur le Lien : "À partir de l'inscription de nos corps dans la chapelle nous dessinerons dans l'espace les liens qui nous traversent pour faire apparaître la trame du jour de notre tissu collectif".
Artiste investie dans la relation, elle anime par ailleurs l'association Haïti Action Artistes, ce qui lui confère une place toute particulière, en phase avec la thématique du Festival.
Leave a review about S'en Mêler, Sang Mêlé :
Horrible

Bad

Average

Good

Excellent
There is no review about S'en Mêler, Sang Mêlé, be the first to leave one !