Silence, on tourne !
Show at Troyes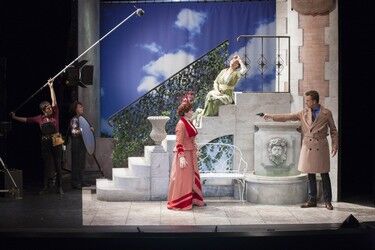 SILENCE ON TOURNE - Bernard Richebé
A 20h30 - DE PATRICK HAUDECOEUR ET GERALD SIBLEYRAS - THÉÂTRE-COMÉDIE

Une équipe de cinéma a investi un théâtre pour le tournage d'un film. Aujourd'hui on tourne la séquence du mari trompé qui interrompt une représentation pour tuer l'amant de sa femme. Au cours du tournage on va découvrir que le producteur est véreux, que le réalisateur s'est promis de démasquer son rival pour lui faire la peau. L'éternel second rôle, quant à lui, est prêt à toutes les crapuleries pour faire décoller sa carrière et l'assistant-réalisateur doit ménager les uns et les autres. Quant au public, il fait partie de l'histoire, c'est le figurant du tournage…
Mise en scène : Patrick Haudecoeur
Avec Isabelle Spade, Philippe Uchan, Patrick Haudecoeur, Nassima Benchicou, Jean-Pierre Malignon, Stéphane Roux, Véronique Barrault, Adina Cartianu, Gino Lazzerini, Patricia Grégoire, Jean-Louis Damant, Jean-Yves Dubanton
Spectacle nommé aux Molières 2017, catégorie meilleure comédie

OUVERTURE DE LA BILLETTERIE de la nouvelle saison de LA MAISON DU BOULANGER :
SAMEDI 9 SEPTEMBRE A 9H (internet-guichets-téléphones)
Leave a review about Silence, On Tourne ! :
Horrible

Bad

Average

Good

Excellent
There is no review about Silence, On Tourne !, be the first to leave one !