Spectacle Musical "Groink"
Cultural , Music , Concert , Show at Reims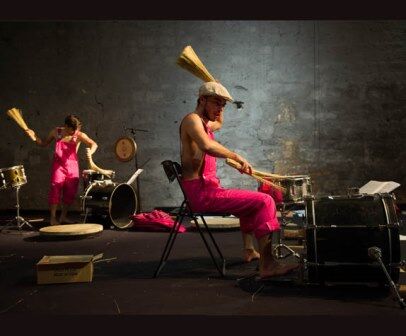 Nif, Naf et Nouf sont trois petits cochons-musiciens, tout roses, tout moelleux. Abandonnés par leur mère, ils errent à la découverte de la vie et jouent sans cesse. Mais comment ne pas se faire croquer par le grand méchant loup ? Se protéger, vite, construire un abri. Maison, cabane, hutte ? Paille, bois, briques ?

Après Cocottes Perchées et Espèces de Grenouilles, le metteur en scène Stéphane Guignard ouvre le troisième volet de son bestiaire où défilent les souvenirs d'une enfance passée dans une grande ferme peuplée d'animaux. S'appuyant sur le conte traditionnel des Trois Petits Cochons remis au goût du jour, Groink livre une œuvre joyeuse, avant tout rythmique et énergique où la percussion, la voix, les corps sont indissociables d'une écriture pleine de clins d'œil ; il est question d'enfance, de jeu, de fraternité, de séparation, de peur d'être dévoré, de construction et surtout de grandir !
Voix, percussions, ukulélé, mélodica, trompette, grosses caisses, ballons de baudruche, fétus de paille, briques, truelles, sabots, planches de bois, scies, marteaux, clous… érigent une maison son ore qu'aucun souffle puissant ne fera s'envoler.

Mercredi 30 mars 14h30/18h30
Tarif : adulte 10€ / Enfant 5€
Durée indicative : 1h

Scolaire :
Jeudi 31 mars 10h/14h30
De 3 à 7 ans
Leave a review about Spectacle Musical "groink" :
Horrible

Bad

Average

Good

Excellent
There is no review about Spectacle Musical "groink", be the first to leave one !