Théâtre "L'Illusion comique"
Cultural , Show , Theatre at Reims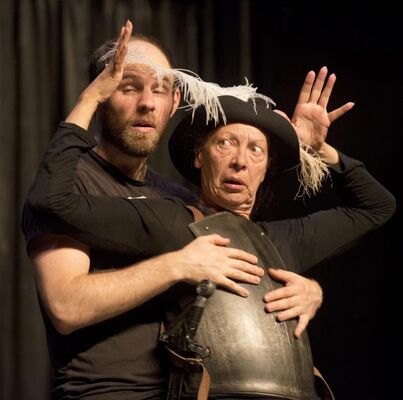 Comme l'écrit Corneille : Mademoiselle, voici un étrange monstre que je vous dédie.

Le premier acte n'est qu'un prologue ; les trois suivants font une comédie imparfaite, le dernier est une tragédie : et tout cela cousu ensemble fait une comédie. Premier acte, premier lieu : une grotte mystérieuse perdue dans la campagne. Pour avoir des nouvelles de son fils, un père de famille autoritaire et inquiet vient consulter le magicien Alcandre, capable de retrouver des fantômes... il assistera en direct aux aventures de son fils... mais tout ça n'est qu'illusion.

Cette pièce, défense et illustration des comédiens et de la scène, a été militante dès sa création ; elle adresse aujourd'hui encore un éloge immense aux pouvoirs du théâtre. Christine Berg, après avoir présenté Peer Gynt à la Comédie la saison précédente, explore une nouvelle fois le théâtre forain dont elle a le secret. Elle emmène sa fidèle équipe artistique dans une nouvelle épopée : un petit théâtre ambulant se déplie devant nous. Mensonges, mirages, travestissements, L'Illusion comique va nous ouvrir grand les yeux.

Mardi 22, vendredi 25, mardi 29 mars et vendredi 01 avril à 20h30
Mercredi 23, jeudi 24, mercredi 30 et jeudi 31 mars à 19h30
Samedi 26 mars et samedi 02 avril à 18h30
Leave a review about Théâtre "l'illusion Comique" :
Horrible

Bad

Average

Good

Excellent
There is no review about Théâtre "l'illusion Comique", be the first to leave one !