Théâtre "La baraque"
at Reims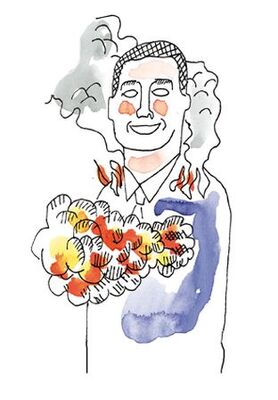 Texte : Aiat Fayez - Mise en scène : Ludovic Lagarde

Le terrorisme a plusieurs de facettes. La terreur est la même partout, mais le terrorisme est partout différent. Pour tenter de mieux comprendre, et aller au-delà du documentaire ou de l'analyse politique, économique ou religieuse, cinq théâtres (Belgrade, Oslo, Stuttgart, Tel Aviv et Reims) se sont rassemblés à l'initiative de l'Union des Théâtres de l'Europe, pour lancer TERRORisms, un projet de création. Ludovic Lagarde a commandé à l'auteur iranien Aiat Fayez un nouveau texte où le terrorisme devient le détonateur d'une comédie absurde, où l'artisanat clandestin de la terreur se mue peu à peu en une entreprise florissante et respectable. Dans leur modeste appartement, Grand et Petit vivotent et se disputent. Une de leurs querelles dégénère un jour et, par malchance, se traduit en accident. Petit convainc Grand de plastiquer une manufacture, responsable selon lui de l'accident. Quelques jours après l'explosion, un homme, Éric, vient sonner chez eux : il a tout vu. Commence alors un engrenage dans lequel les victimes ne sont pas forcément celles qu'on croit…

Vendredi 6 février à 19h
Samedi 7 février à 21h
Mardi 10 février à 21h
Mercredi 11 février à 21h
Jeudi 12 février à 19h

Spoken languages
Standard rate - adult full price

22 €
Leave a review about Théâtre "la Baraque" :
Horrible

Bad

Average

Good

Excellent
There is no review about Théâtre "la Baraque", be the first to leave one !