Un p'tit coup de blues
Theatre at Mourmelon-le-Grand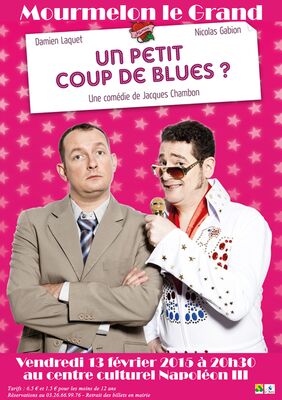 Un p'tit coup de blues
Jacques Chambon, le Merlin de la série Kaamelott nous livre une comédie détonante, écrite sur mesure pour un formidable duo de d'acteurs : son camarade de Kaamelott, Nicolas Gabion alias Bohort et Damien Laquet, comédien dans de nombreuses pièces à succès.

On croit que les immeubles de bureaux sont vides la nuit. Erreur !
Il s'y passe des choses étranges. On y croise des personnages étonnants ! Quand un cadre sous pression rencontre Elvis chantant « Love me tender », le show et le business se mélangent en un cocktail délirant.
Un curieux vigile passe en effet son temps de surveillance dans les bureaux d'une importante société à préparer son show d'imitation d'Elvis Presley. Sauf qu'il n'est pas seul ce soir-là. Apparaît un jeune cadre dynamique qui n'a plus l'air de l'être. La discussion s'engage … Chacun reprochant à l'autre sa présence. Puis comme chacun à ses problèmes, ils vont s'unir pour les résoudre d'une façon inattendue.

Jacques Chambon a ciselé sa pièce de répliques aux petits oignons. On les savoure d'autant mieux qu'elles sont interprétées par Nicolas Gabion, touchant en Elvis des bacs à sable et Damien Laquet, également excellent en employé qui déraille.

Une comédie qui passe du blues au rock'n'roll, sans perdre le tempo ! Un p'tit coup de blues ? Un grand moment de jubilation !
Leave a review about Un P'tit Coup De Blues :
Horrible

Bad

Average

Good

Excellent
There is no review about Un P'tit Coup De Blues, be the first to leave one !