Wally et invités !
Show , Comedy at Vouziers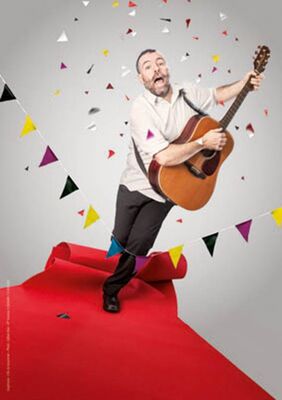 Droits libres
A l'occasion de ses cinquante ans, Wally, « chanteur de sous-préfecture » comme il se définit, va une nouvelle fois traverser la France et ses régions (avant qu'elles ne fusionnent...) pour une tournée anniversaire. Bien sûr, qui dit anniversaire dit invités! Une centaine d'artistes a d'ores et déjà répondu présent et sera répartie sur les vingt-sept dates de cet événement. Jouant la carte de la surprise jusqu'au bout, le nom des invités par soirée ne sera pas dévoilé !Chaque soir, Wally proposera un set de 45 mn, entrecoupé de l'arrivée de ses invités (entre 3 et 7 par soir).Ceux-ci, en guise de cadeau, interprèteront une œuvre de leur répertoire, avant que Wally ne se joigne à eux pour revisiter un texte ou une chanson tirés des quatre spectacles qu'il a créés depuis 20 ans. Un spectacle unique et différent chaque soir, entre humour et chanson, en toute décontraction et convivialité!A ce jour Wally c'est 1700 représentations dans toute la France avec notamment l'Olympia, le Trianon, Bobino, les Folies Bergères… Un artiste complet à découvrir ou à (re)découvrir à l'occasion de cet anniversaire !

Spoken languages
From 0 € to 10 €

From 0 € to 12 €

From 0 € to 6 €

From 0 € to 15 €
Leave a review about Wally Et Invités ! :
Horrible

Bad

Average

Good

Excellent
There is no review about Wally Et Invités !, be the first to leave one !