EGLISE SAINT MARTIN D'EGUILLY SOUS BOIS
Religion , Church at EGUILLY-SOUS-BOIS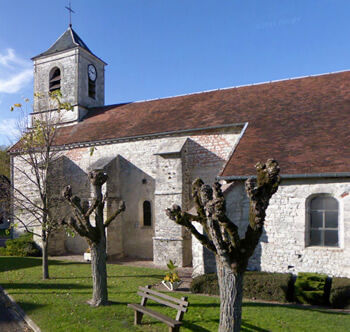 Jadis paroisse du diocèse de Langres, l'église d'Éguilly-­sous-Bois dépendait du doyenné de Bar-sur-Seine à la seule collation de 'évêque. Cet édifice de la fin du XIIe et du début du XIIIe s., à nef unique de 4,70 m de large, est agrandi au sud par une vaste chapelle de deux travées, voûtée d'ogives. La nef romane, contrebutée par de gros contreforts, se termine par un chevet plat du début de l'époque gothique, percé d'un triplet, dont les baies en plein cintre, fortement ébrasées, sont garnies de vitraux modernes. Deux larges contreforts épaulent les angles du chevet et de la chapelle en hors d'œuvre. En 1843, la travée ouest a été surmontée d'un clocher carré ouvert sur ses quatre côtés. Une porte romane en plein cintre très simple subsiste au pied du massif du clocher ; elle est surmontée d'un oculus. Au revers de la façade subsiste, au-dessus de la porte, un arc en plein cintre roman à double voussure qui retombe sur deux colonnettes à chapiteaux de feuillage élancé. La voûte en bois moderne de la nef a remplacé au XIXe s. les voûtes de pierre en mauvais état. Elle retombe sur des culs-de-lampe en forme de godets triangulaires qui appartiennent au mode de voûtement primitif et que l'on rencontre dans plusieurs édifices de la région, comme à l'Isle-Aumont ou Bucey-en-Othe par exemple. La dernière travée de la nef et l'entrée du chœur ont reçu un traitement particulièrement soigné ; elles sont scandées par des colonnes engagées à chapiteaux de feuillage, sur lesquelles reposaient les voûtes d'origine. La chapelle latérale s'ouvre largement sur la nef par deux arcs brisés sans mouluration correspondant à chaque travée. Cette chapelle, plus basse que la nef, est voûtée de robustes ogives à large méplat en intrados encadré d'un ressaut, fréquentes dans la région et dont les clés rustiques sont sculptées, l'une d'un masque, l'autre d'une sorte de fleur largement ouverte. Elles reposent sur des consoles placées très bas sur les murs, ce qui donne un aspect trapu à cette partie de l'édifice. Les ogives du chœur reposent sur des culs-de-lampe en forme de godets, très proches de ceux de la nef. Sur les murs latéraux, des consoles supportent deux statues équestres polychromes, l'une de saint Martin, l'autre de saint Georges terrassant le dragon. Une statue de la Trinité, en pierre, est classée au titre des objets mobiliers. En 1998, la Sauvegarde de l'Art français a donné une subvention de 50 000 F à la commune pour la restauration de la voûte en pierre de liais de la chapelle sud et la réfection de ses enduits.
Leave a review about Eglise Saint Martin D'eguilly Sous Bois :
Horrible

Bad

Average

Good

Excellent
There is no review about Eglise Saint Martin D'eguilly Sous Bois, be the first to leave one !