Exposition Daniel Casanave
Exhibition at Hautvillers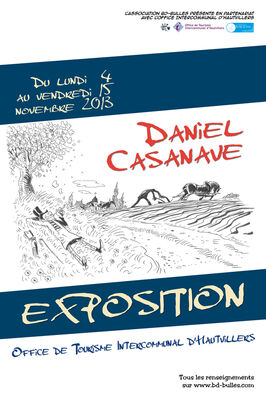 BD Bulles
A l'Office de tourisme. Planches originales, dessins et carnets.

Daniel Casanave est né dans les Ardennes et vit à Reims.
Après un diplôme des Beaux-Arts, il partage son temps entre l'illustration, la scénographie et la bande dessinée.
Daniel Casanave utilise principalement la plume. Son dessin est souvent un fouillis de traits et de vigoureuses hachures qui en font toute sa force, y compris (et surtout) en noir et blanc.
Depuis 2001, il explore le monde de la bande dessinée, en mettant l'accent sur l'adaptation de chefs-d'oeuvre de la littérature.
"Lorsque je dessine Flaubert, Verlaine ou Rimbaud, ce n'est pas forcément leur vie que je raconte, c'est une certaine idée que je me fais de leur esprit. Finalement, la finalité de mes livres, c'est de donner envie aux gens d'aller lire les originaux".
Leave a review about Exposition Daniel Casanave :
Horrible

Bad

Average

Good

Excellent
There is no review about Exposition Daniel Casanave, be the first to leave one !