Pierry Art'
Market at Pierry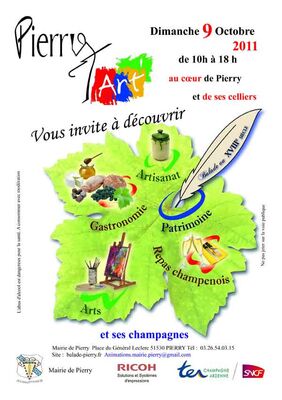 © Pierry Art 2011
La 5ème édition de Pierry Art' propose le temps d'une journée, un marché d'art, d'artisanat et de gastronomie (sculpteurs sur métal, peintres, peintres sur verre, sur porcelaine, sur tissus, sur bois, photographes, loisirs créatifs, mosaïque, créateurs de bijoux, création en liège, ballon d'art ; foie gras, escargots, dindes rouges, chocolat, fromage de chèvre, confitures, apéritifs, gâteaux, pâtisseries, pâtés-croûte, spécialités ardennaises, miel…). Des démonstrations seront proposées par les producteurs toute la journée. Deux défilés de mode avec deux stylistes auront lieu au château à 15h et 16h30. Des points de restauration et un bar à champagne sont proposés à divers endroits, un repas vigneron se déroulera sur réservation à la salle des fêtes. Les savoir-faire locaux et le patrimoine de Pierry sont à l'honneur !
La manifestation est installée dans la rue principale du village, chez les 6 vignerons participants et 3 sites historiques ouverts pour l'occasion (Les Aulnois, Cellier du Frère Oudart et le Château de Pierry).
Leave a review about Pierry Art' :
Horrible

Bad

Average

Good

Excellent
There is no review about Pierry Art', be the first to leave one !