EGLISE SAINT PARRE DE PRASLIN
Listed or registered (CNMHS) , Church , Religion at PRASLIN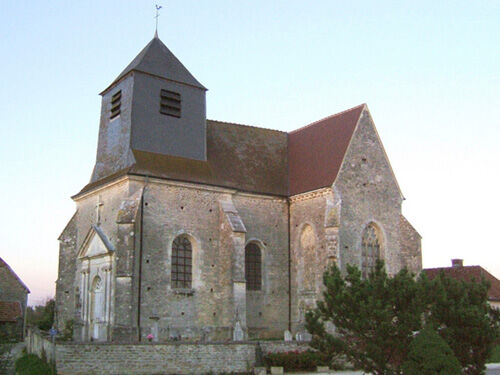 The apse and transept of the church of Saint-Parres Praslin were rebuilt in the sixteenth century. The nave was rebuilt in 1770 by people who wanted to enlarge the choir and was later restored in 1786. The south transept was the chapel of the lords of Choiseul-Praslin whose castle was facing the church. The current tower was built in 1882.Suivant a strict Latin cross, the church has only one nave long ship two bays leading to a transept. The choir consists of a straight bay and a three-sided apse. The steeple in the ridge structure of the nave above the entrance occidentale.Les work of the sixteenth century have been accompanied by the installation of two windows devoted to the glorious life of Christ - especially the Resurrection, Christ's appearance to Mary Magdalene, Ascension - and representations of saints - St. Anthony, a holy bishop - and donors remained unknown. The first was restored in 1920. The bombing seriously damage the panels which are then deposited in the Annex treasure of the Cathedral of Troyes. It was not until 1986 they were restored by Vinum workshop and rested on Praslin. The building is listed in the supplementary inventory of historical monuments by order of June 4, 1992 and the windows are classified under item 15 November 1894. Apply to City Hall on Friday morning, March 25, 40 02 65.
Leave a review about Eglise Saint Parre De Praslin :
Horrible

Bad

Average

Good

Excellent
There is no review about Eglise Saint Parre De Praslin, be the first to leave one !