Concert - Tacomma
Concert , Jazz and blues
at Reims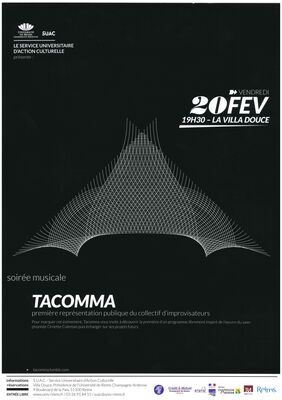 TACOMMA is a new collective founded by musicians champardennais Jean-Baptiste Berger, Fabien Cali, Nicolas Canoeing and Luis Vina now work towards achieving and promoting artistic creations related to improvised music and sound practices, whether in the form instrumental, vocal, electro and others. These practices will be part of the many aesthetic of jazz, especially those of contemporary writing and contemporary music.
TACOMMA promote innovative collective practices, forms of open entries, improvisations from graphical notations, twisted shapes instrumental / electroacoustic, soundpainting etc.
TACOMMA also work to promote the creations of artists from the Champagne-Ardenne region in conjunction with artists from other regions and abroad through residencies and exchanges.