Conference / Performance - Slam and Europe III
Music , Concert , Lecture
at Reims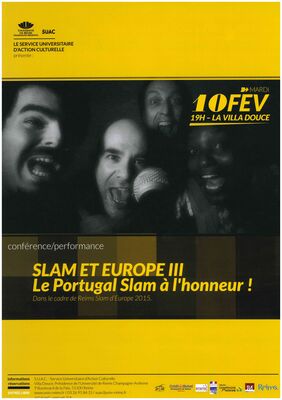 The European slam goes beyond the Franco-German duo, it is the case of Portugal, which has a very active scene is a model of its kind: local scenes, nationally and internationally, conferences, workshops and much more with the introduction of new media tools and the largest number service. Beautiful initiatives that retain the public, to make it grow and offer him a place of choice. The Slam Portugal is honored in Reims, several of its members will present their work, video clips and course performance "live" where you will be put to, because without public no slam.
The currency of Portugal Slam: when the word Makes the can dream (when the word makes the dream possible): a program!
A space for debate will close this evening.