"Dream of Colours" Show - 2015 season
Sound and light show , Show
at Reims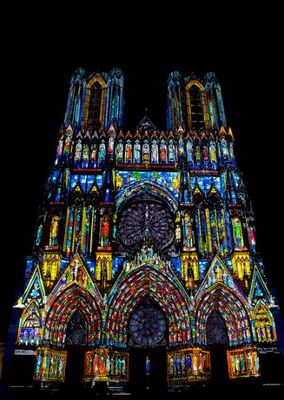 Come and discover or rediscover the outstanding lighting of the façade of the Notre-Dame cathedral!

Created in 2011 for the 800 years of the cathedral by Skertzo (highlighting of heritage), "Dream of Colours" is an outstanding illumination of the façade of Notre-Dame de Reims. The sound and light will take place again this year to the delight of spectators. Sessions are scheduled from May 1st to September 20th and again on Thursday October 8th, and again at the end of the year, during the Christmas and New Year's Eve celebrations.
Each session consists of a "14-18" trailer, two 25 minute projections of "Dream of Colours," separated by a fixed 10 minute polychrome image and ends with a fixed 20 minute polychrome image.

In August, every day except Mondays, from 1st to 18th at 10:30pm and from 19th to 30th at 10pm / in September, Fridays, Saturdays and Sundays at 9:30 pm.