Exposition "Petites histoires de la Grande Guerre"
Cultural , Commemoration , Exhibition , Recital
at Reims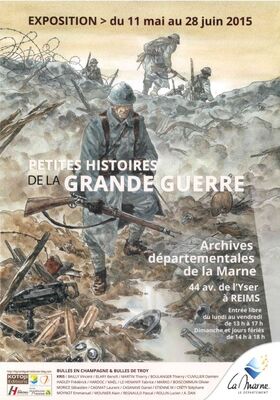 Through the eyes of 20 designers, and under the pen of the writer Kris, (re)discover the First World War with 20 stories and 20 items that belonged to the men and women who lived through this conflict on the forehead or at the rear.

The exhibition is aimed at all audiences, which can not only discover twenty boards contemporary designers, specially created for the occasion, but also the soldier's everyday objects or photographs and documents preserved in the departmental archives of the Marne around three themes: weapons and equipment of the soldier, his daily in the trenches, life back. Each board has, with sensitivity and humor, an individual history associated with an object.

These viewpoints can evoke different facets original way of the conflict, for example, the evolution of uniforms and weapons. A gourd, utensils for meals, crafts trenches, a palette, a camera and others recall the daily pretext hairy. Civilians are not forgotten with children's games, a widow card, the work of peace, ...